Falls Creek Summer Camp 2021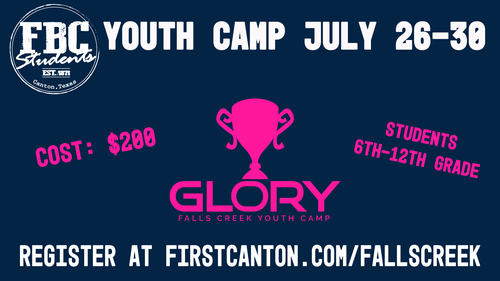 Falls Creek Youth Camp
July 26-30, 2021 Falls Creek Baptist Camp, OK
Cost: $200 (due at registration)
For students in 6th - 12th Grade (completed as of May 2021)
Registration Deadline: July 11
Scholarships are available upon request. Contact Mickey for additional information.
Attend one of two required parent meetings:
July 14th in Youth Room at 7:15pm
July 18th in Worship Center at 12PM
Registration
Registration is a multi-step process. All steps must be completed, including the full payment of the $200 camp fee by July 4th.
First, to reserve your student's spot at camp, you will need to sign up via Realm, FBC Canton's member portal. If you have not used Realm before, you will need to create a profile before you can register your student. If you already have a Realm profile, sign into Realm and complete the initial registration process.
Step 1:
If you have a Realm account, please click
here
to sign up your student for Falls Creek. If you need to create a Realm account, click
here
. Then select "register now." Once you have an account, you'll be able to sign up and pay for all FBC events online via your computer or the Realm mobile app.
Step 2:
Complete the required camp form and FBC Travel Waiver and return to the church office.
Step 3:
Pay the $200 registration fee via Realm (credit or debit) by July 11th. Scholarships are available. Please contact Mickey to discuss.
Step 4:
Attend one of two required parent meetings.
July 14th in Youth Room at 7:15pm
July 18th in Worship Center at 12PM